As a member artist at the NOMA Gallery at 437 North Market St., Frederick, Maryland, I am privileged to have my work on display every month. The gallery has a reception to celebrate our new monthly exhibit the first Saturday of every month from 6-9pm. The Gallery itself is open Fridays from 4-8 pm, Saturdays that are not First Saturday from 4-8, and Sunday from 12-4pm. If you would like to meet me there at another time I would be pleased to make arrangements.In Addition I will be having an exhibit with Linda Vanhart for the full month of November. I have also been invited by the gallery at ClayArt Vegas, Las Vegas Nevada, to participate in an exhibit in a show titled "Collaboration". This exhibit will be traveling to Europe, Asia, New Zealand, and our own Towson University. 


Solo Exhibit- October 2019, Clay Co-Op, Rockville Maryland. More information coming Soon.
Upcoming workshop: Greenbelt Community Center
2 Dates · Mar 2 - Mar 3
Students will learn to create a sculpture created initially as a solid object which will be cut into discrete pieces, hollowed out, and re-assembled. The sculp... More


MEMBERS SHOW- Gallery 209, Rockville Maryland, February 2, 2018. More details to come.
SECOND WIND ARTISTS- AN EXHIBIT OF WORK BY RETIRED TEACHERS OF AACPS.

  

JANUARY 10TH- FEBRUARY 11TH, Reception January 14th,  1:30-      3:30                   
Creativity CreatesCommunity
Clay wrote: "We wanted to share an image from the City Hall show. It includes work from Nicole Geary, Marc Rosenthal,John Gregg, Thom Bumblauskas, Bobbye Sansing, Kd Matheson, Judith Kornett, Judi Sapero Tavill, Lora Nava, Emily Nickel, Michelle Laxalt, Joel Patton, Connie Norman, Kari woolsey, and Peter Jakubowski. These artists represent the work seen and soon to be seen in the gallery at Clay Arts Vegas. Many will be doing workshops in 2014 and several are members of the Nevada Clay Guild. Thank you again Jeanne Voltura, Bob Coffin and all of our friends at Las Vegas City of Las Vegas Government and 18B."
Festival of Lights
Greenbelt Community Center
December 7-8, 2013
What Goes Bump in the Night
Clay Arts Vegas
Las Vegas, Nevada
October 1-30, 2013
Exhibit title –THE FOREST PRIMEVAL
Montpelier Arts Center Resident Artists Gallery
May 1 –June 30, 2013
Opening reception June 14 7-9pm
"This is the forest primeval. The murmuring pines and the hemlocks, Bearded with moss, and in garments green, indistinct in the twilight, 
Stand like Druids of eld, with voices sad and prophetic, 
Stand like harpers hoar, with beards that rest on their bosoms. 
Loud from its rocky caverns, the deep-voiced neighboring ocean 
Speaks, and in accents disconsolate answers the wail of the forest.
This is the forest primeval."
My sculptures are from my forest primeval, a place at once intimidating and humorous. They speak for themselves, if you ask very nicely. If they refuse, I can try to elucidate, but I don't always know the answers. After all, they are not about words, or are they?
Ceramic sculpture has given me a vehicle for exploring my world, inner and outer, as well as the opportunity to discover what can be revealed on both a spiritual and a tangible level through the creation of an artifact. Use of the word artifact is purposeful because, when a work is completed, I feel as I imagine an archeologist feels while when brushing away the final layer of dust or sand from an object, suddenly revealing a previously unseen treasure.
My sculptures are built using slabs, coils and thrown pieces that are assembled and then embellished using stamps and molds of my own construction. I generally leave some of the surface bare of color. On the remaining surface I apply stains, underglazes and glazes. After firing in either a wood fired or raku kiln, adornment is completed through the addition of materials such as feathers, wire, beads, found objects and paint.
(Quote from EVANGELINE, By Henry Wadsworth Longfellow)
Festival of Lights Juried Art and Craft Fair
December 1 & 2, 2012
Saturday, December 1: 10am – 5pm
Sunday, Dec 2: 11am – 4pm
15 Crescent Road, Greenbelt, MD 20770
Featuring: ceramics, pottery, wood, glass, jewelry, textiles, art prints, books, Greenbelt Museum gifts and much more.
http://greenbeltlive.com/pottery/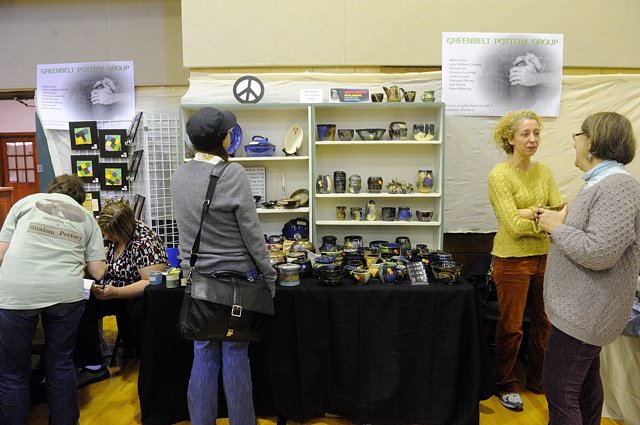 The Greenbelt Pottery Group's stand. Eight artists from the group participated in the fair.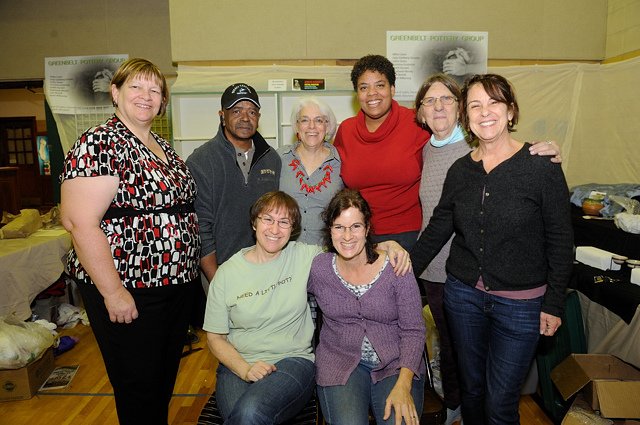 Pottery group members shown are from left, in the front row, Judy Goldberg-Strassler and Cathy Groen, and in the back row, Karen Wilkening, Willie Caster, Lola Skolnik, Stephanie Massey, Judith Kornett, and Christina Guidorizzi.
Photo Credit: Eric Zhang
In Medusa's Company
February and March, 2012
Fisher Gallery, Alexandria Campus, Northern Virginia Community College